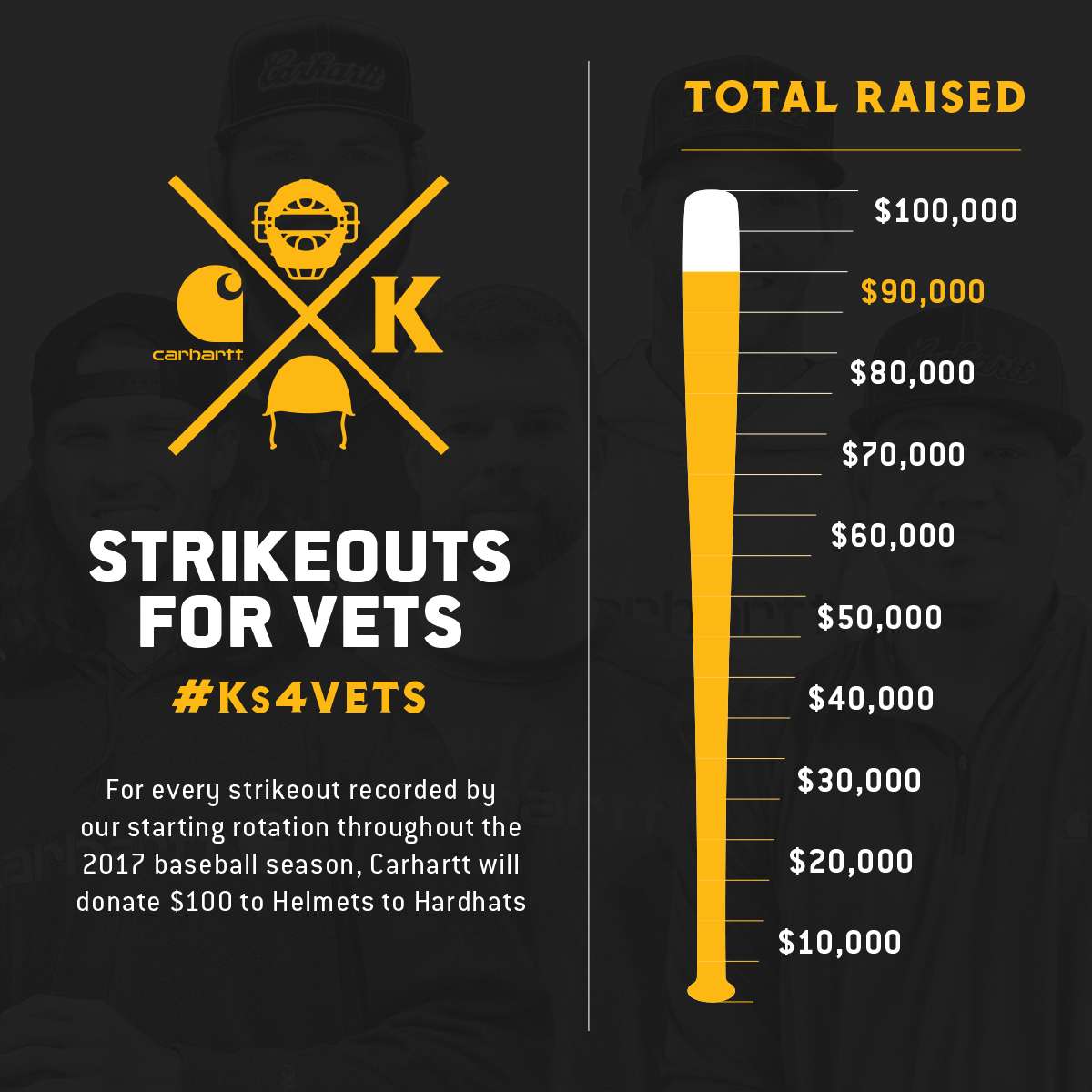 • At the close of the 2017 season, the Carhartt Starting Rotation had raised $91,700 for Helmets to Hardhats as part of the Strikeouts for Vets campaign.
• Boston's Chris Sale recorded the most strikeouts in baseball through September 12. With 278 Ks and counting, Sale has himself raised $27,800 for Helmets to Hardhats.
• As of September 12, the Carhartt Starting Rotation has recorded 917 strikeouts, which is more than any other starting rotation in baseball.
• Three members of the Carhartt Starting Rotation -- Chris Sale, Corey Kluber, and Jacob deGrom -- are each ranked among the Top 5 in baseball in strikeouts on the season. The trio has recorded 734 strikeouts, raising $73,400 for Helmets to Hardhats.
2017 STRIKEOUTS FOR VETERANS
LOWERING BATTING AVERAGES AND
THE UNEMPLOYMENT RATES OF U.S. VETERANS #Ks4Vets
Carhartt is proud to support our hardworking military service veterans. That's why Carhartt is expanding its "Strikeouts for Vets" campaign for 2017 by creating a "starting rotation," which includes Chris Sale, Jacob deGrom, Felix Hernandez, Corey Kluber, and Michael Fulmer. For every strikeout recorded by each of these five pitchers throughout the 2017 baseball season, Carhartt will donate $100 to Helmets to Hardhats, a national nonprofit program that helps military service members successfully transition back into civilian life by offering them the means to secure a quality career in the building and trade industry.
Carhartt will donate an additional $25,000 to Helmets to Hardhats if the Carhartt Starting Rotation exceeds the strikeout totals of every other team's top five starting pitchers on the season. Combined, the Carhartt Starting Rotation has 5,068 career strikeouts, 327 wins, 13 All Star Game appearances, two Cy Young awards, and two awards for Rookie of the Year.
Follow Carhartt and the "Strikeouts for Vets" campaign on Facebook and Twitter at facebook.com/carhartt and @Carhartt or track the campaign using #Ks4Vets.