The Story Behind Carhartt Hand Made Films
Three years ago, actor-director Jason Momoa relentlessly banged his barrel fists on the doors of Carhartt's Creative Director Brian Bennett. Bennett finally agreed to meet with Momoa to hear his idea, but since he thought the big dude sounded a little nuts, he dragged his producer Chris Robinson along for some 'backup.'
They all met at a bar in Detroit called Two James. After trying a fresh batch of absinthe and several whiskeys, some high-fives and head-butts, they quickly formed a brother-like bond, thanks to their blue-collar roots and love of the underdog. An agreement was made on a soggy cocktail napkin that was lost that night. A handshake later, Bennett and Robinson agreed to work with Jason and his production company, Pride of Gypsies, to help bring Jason's story to life.
Several years, beers and adventures later, a short but mighty film was born. A film we love so much at Carhartt, we've decided to make more like it. So we formed a Production Company called Carhartt Hand Made Films.
The mission of Carhartt Hand Made Films is simple.
Discover people who live the Carhartt way of life. Help tell their story with artfulness and craftsmanship in hopes of inspiring others along the way.
There are 3 simple rules to making a project with Carhartt Hand Made Films: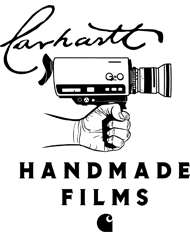 1. Your love of Carhartt runs deep in your blood.
2. Carhartt is a family run company and we only make work with people we consider family.
3. You can out-create and out-work what Jason Momoa gave us in the making of our first film Canvas of My Life.
*Our lawyers and bartender friends want you to know (regarding Rule 3) we do not encourage you to try and out-drink Jason Momoa.
We look forward to your ideas. Email us here at: ‪handmadefilms@carhartt.com‬‬‬