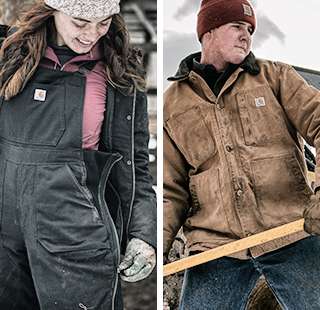 Carhartt Full Swing® was designed with feedback from hundreds of workers to address the concerns they had about fit and movement. From jackets to shirt jacs to pants to bibs, Full Swing® gear features stretch panel technology for maximum range of motion to help workers move freely on the farm, construction site and everywhere in between. Full Swing® helps you move easy in classic Carhartt styles by combining unique stretch features between the shoulders, under the arms, and at the knees and elbows for less restriction. Your daily grind is enough of a fight — you shouldn't have to fight your gear too.
---
Full Swing® Chore Coat
We gave our 100-year-old chore coat a Carhartt makeover: it's now packed with Full Swing® features, engineered for maximum range of movement to make it easier for you swing your axe, hug your mom, or lift 100-lb bags of mulch.
Women's Full Swing® Cryder Bib Overalls
The most comfortable bib ever. Period. We added stretch side panels to the allover stretch fabric to help you move easy, and we put in a drop seat you can unzip, so when nature calls, you don't have to take off the entire thing.